UPCOMING EVENTS
Branch Meeting, February 22, 2020, social time 10 am, meeting begins at 10:30 am. Asante Ashland Community Hospital Conference Room
Program: Uftuddies — A Secret Women's Society at SOU.  Join us to hear Maureen Battisella describe how female academics at Southern Oregon University in the not-so-distant past used friendship and humor to help navigate a male-dominated professional landscape.
Lobby Day 2020- February 24, 2020, Salem OR
This is AAUW's annual opportunity to meet our legislators and discuss AAUW's legislative priorities during the 2020 short legislative session. This year's event is organized by your own Ashland Branch! In addition to talking to our elected representatives, Senator Jeff Golden and Representative Pam Marsh, we will also hear from speakers and panelists discussing how we can encourage women to run for office, get elected and staying in office.
SAVE THE DATE!
 AAUW of Oregon and Washington Dual Convention, April 17-19, 2020, Heathman Lodge, Vancouver, WA.
Celebrate 100 years of women's suffrage with like-minded friends. Dress in white for "Suffrage Night at Saturday's dinner and enjoy a festive evening of historical entertainment. Watch for details in the winter AAUW Oregon newsletter, including hotel information, registration form, and meeting agenda.
ENGAGE!
Ready to mobilize a million? Help AAUW train 10 million women in salary negotiation by 2022 and achieve pay equity by 2030!
Start Smart/Work Smart Salary Negotiation Workshops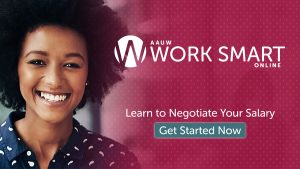 Work Smart is now available online! This makes the program more accessible to women everywhere — they can log on and take the course at their convenience.  It takes about an hour to complete, it's available to anyone, and it's FREE! To get started, go to http://salary.aauw.org
Become a Two-Minute Activist for women and girls today!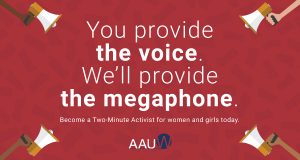 Take action on issues impacting women and girls by joining AAUW's Action Network. As a Two-Minute Activist, you will receive urgent email notices when your advocacy is needed most. We'll provide all the tools you need to call or send messages to your members of Congress, write letters to the editor for your local newspapers, contact your state legislators about pressing issues, and more.
Sign up now on the AAUW National website.