---
EVENTS UPDATE
Do You Hear the Buzz? Upscale Sale will be May 28-29!
The beauty of our Upscale Sale is that it is a community event and we raise other people's money for scholarships!
Very soon, you can drop off all the items you have been patiently saving. 
Drop off schedule:
Wednesday, May 25, noon to 4 pm

Thursday, May 26, 10 am to 2 pm
Please Bring your items to the Bellview Grange
1050 Tolman Creek Road in front of Bellview Elementary School.
IT'S TIME TO RENEW YOUR MEMBERSHIP!

It's that time of year again!  Your Ashland AAUW membership will expire on June 30 unless you renew before that date. You'll soon receive a letter at your home address containing your membership renewal form, an interest survey, and instructions on how to complete and return the forms. Please complete and return the forms along with your check as soon as possible so we can start planning for our programs, gatherings, and activities starting in September. After 2+ years of COVID-related restrictions, we're looking forward to starting off the year with renewed enthusiasm and dedication. Please give the interest survey your full attention– it's important to help us plan for the year ahead!
You can also click here to access the renewal form.
PAM SHAY RECEIVES FLORENCE SCHNEIDER AWARD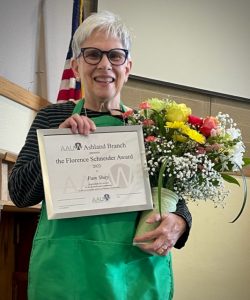 Pam Shay was honored at the May branch meeting with the annual Florence Schneider award.  Florence Schneider, now deceased, was a long-time dedicated member of Ashland AAUW known as an active recruiter and mentor for new members.   Pam has served on the board as a member-at-large, as co-president for two years, as a section leader for the 2019 Upscale Sale, and as the current co-chair of this year's sale.  She led our branch to receive national 5-star recognition, organized the 2019 lobby day in Salem, and spearheaded our nomination and succession plans.  Pam currently serves as the South District State Representative.  Pam clearly exemplifies the values of Florence Schneider's life, commitment to positive changes to society and equity for women and girls.  AAUW Ashland is so very fortunate to have Pam among our members and we all congratulate her on this well-deserved award.
BE A TWO-MIMUTE ACTIVIST!

Did you know that you can send emails and texts to your legislators to fight for many of the issues that are supported by AAUW?
If you provide the voice, AAUW will provide the megaphone. AAUW will provide all the tools you need to call or send messages to your members of Congress, contact your state legislators about pressing issues, and more.
It Only Takes Two Minutes!
Join AAUW in urging Congress to improve and expand legislation protecting our civil rights, economic security, and access to education.
Some of the Topics Are:
To find out more about these and other topics and how to become a two-minute activist you can visit the website.
https://www.aauw.org/act/two-minute-activist/
---