Welcome Back Meeting Saturday, Sept. 26
Are you ready to kick off a new year with the Ashland Branch? Join us via Zoom at 10:30 am til noon when our Co-presidents, Paula Wiiken and Catherine Lutes, will fill you in on what's happened over the summer and what's planned for the coming months. Watch your email for instructions on how to join the meeting. Mark your calendars!
______________________________________________________________________
Have  You Seen Our New Directory?
Our Membership Directory has entered the digital age! It's available online on this website and you can also access it from your mobile devices so it's always available. Because it's online it can be updated as needed so it's always current. If you prefer a printed version, there's a full color printable version to download, with instructions on how to easily create a booklet.
_______________________________________________________________________

How to Get Involved in the 2020 Elections
Although AAUW is a nonpartisan organization, that doesn't mean we can't get involved in the political process. Indeed, it's critical to our mission! The stakes in this election are high, and voter participation will be especially challenging. AAUW National is focusing its efforts this fall on motivating civic engagement in connection with the upcoming election, including:
Voter Access

Getting Out the Vote

Voter Education
The National website has a wealth of resources and ideas on how to get involved and make a difference! Take action now!
________________________________________________________________________
We Reached for the Stars– And Succeeded!

WE DID IT!!!!
Our branch is participating in the AAUW Five Star program that encourages cohesion between AAUW National and its affiliates, and rewards branches for aligning their work with the AAUW strategic plan and initiatives that bolster the critical mission of advancing gender equity for women and girls. Stars are awarded for achieving measurable goals towards these objectives.
In February our branch received its first star for Public Policy and Research.
 On June 19 we received our third star for hosting programs related to AAUW's strategic plan during 2020-2021 (pre-pandemic!). Special thanks to our creative program chairs, Janet Troy and Kathleen Mackris!
On July 1 we earned the final two stars for Communications & External Relations, and Governance and Sustainability. Kudos to all of our members who made this achievement happen!
Our Branch was highlighted in AAUW National's recent newsletter and on the National website. Take a look at this!
Learn more about the 5 Star Program
---
COVID-19 Updates  
Both National AAUW and AAUW of Oregon have instructed local branches that AAUWrelated in-person meetings must be in compliance with current state and local restrictionsand guidelines. To help you stay informed, here are links to more COVID-19 information.

Oregon Health Authority
Jackson County
___________________________________________________________________________
ENGAGE!
Ready to mobilize a million? Help AAUW train 10 million women in salary negotiation by 2022 and achieve pay equity by 2030!
Start Smart/Work Smart Salary Negotiation Workshops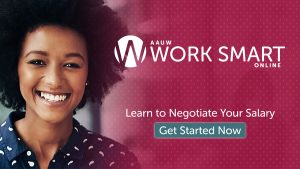 Work Smart is now available online! This makes the program more accessible to women everywhere — they can log on and take the course at their convenience.  It takes about an hour to complete, it's available to anyone, and it's FREE! To get started, go to http://salary.aauw.org
Become a Two-Minute Activist for women and girls today!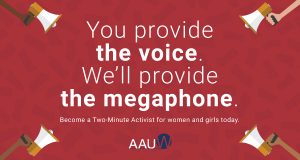 Take action on issues impacting women and girls by joining AAUW's Action Network. As a Two-Minute Activist, you will receive urgent email notices when your advocacy is needed most. We'll provide all the tools you need to call or send messages to your members of Congress, write letters to the editor for your local newspapers, contact your state legislators about pressing issues, and more.
Sign up now on the AAUW National website.