Public Policy priorities underscore AAUW's mission of advancing equity for women and girls through advocacy, education, philanthropy, and research.
We support:
• A strong system of public education that promotes gender fairness, equity, and diversity
• Economic self-sufficiency for all women
• Equality, individual rights, and social justice
Public Policy Team
Chair: Regina Ayars; Chair effective 7/1/22: Lisa Verner. Members: Kathy Brandon, Marge Dwyer, Lesley Kaufman, Cathe Ledford, Catherine Lutes, Mary Renaud, Sherri Sobel.
State Public Policy Goals 2022-2024
Click here to view AAUW Oregon's public policy goals for 2020-2022
Political Action
Although AAUW is nonpartisan, it is political and supports public policy legislation. The Public Policy Committee follows relevant bills while the Oregon legislature is in session, contacting legislators with support or disapproval. Updates on the current legislative action are available and State legislative priorities are available on the State website. Click below for more information.
CLICK HERE FOR STATUS OF AAUW SUPPORTED BILLS 2022
ALL POLITICS ARE LOCAL
Our Public Policy Team believes that all politics are local. That's why they've long been involved in issues affecting our local community. Click the link below to learn more about the many ways they have made a difference.
2022 Public Policy Activities
January 2022
JANUARY FOCUS
GENDER EQUITY IN LOCAL GOVERNMENT
Women hold less than one third (30.5%) of seats in municipal government (incorporated cities of 10,000 or more) nationwide, comparable to their presence in state and federal offices. Experts with the Center for American Women in Politics (CAWP), which collected the data (April 2021), said the findings dispel the myth that women have more representation in local office.
Luckily, that is not the case with Ashland. As of the November 2020 election, Ashland has a woman mayor and four elected women council members. This is the first time that the city has had a majority female elected administration (including the city recorder position.) Hopefully, it won't be the last.
On January 22, 2022, four city council members — Gina DuQuenne, Tonya Graham, Paula Hyatt, and Stephani Seffinger– participated in a panel discussion entitled "Women Leaders Making the Hard Decisions." These women and their fellow council members spend countless hours preparing for and attending council meetings and study sessions, and listen to staff reports and citizen testimony in order to make the decisions that affect our daily lives. Click here to view the meeting.

February 2022
Lobby Evenings
Policy, Politics, Partisanship
Lobby Day evolved this year into virtual Lobby Evenings!
Tuesday, February 15: Speaker Dick Hughes, journalist and author of the weekly "Capitol
Chatter" for the Oregon Capitol Insider
Wednesday, February 16: Panel of four women legislators:
Rep. Winsvey Campos, Dist. 28 (Aloha)
Rep. Lily Morgan, Dist. 3 (Grants Pass)
Rep. Lisa Reynolds, Dist. 36 (Portland West Side)
Rep Akasha Lawrence Spence, Dist. 18 (Portland)
WATCH LOBBY EVENINGS
March 15, 2022
Equal Pay Day
This date symbolizes how far into the year women have to work to earn what men earned in the previous year
The Simple Truth About the Wage Gap
2022 PUBLIC POLICY VISION ARTICLES
January: Where is the Affordable Housing?
February: Women Hit Harder by COVID Recession
March: 2-Minute Activist
2021 HIGHLIGHTS
January Public Policy Branch Meeting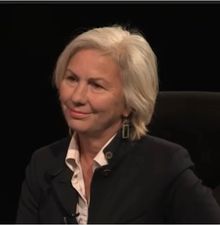 The Public Policy Committee hosted the January 2021 Branch meeting featuring an interview with newly-elected Ashland Mayor Julie Akins.
WATCH THE INTERVIEW WITH JULIE AKINS
HB 3110
The Public Policy Team chose the topic of "Women on Boards" for study this year. The lack of women serving on the boards of publicly-traded corporations is just another glass ceiling for women in business.  A subcommittee of the Public Policy team, Ann Bard, Julie Benezet, Sonja Friedman, Mary Renaud, and Regina Ayars, started researching the topic and completed a substantive report on the status of women on boards in the United States, focusing on Oregon.
The report Final WOMEN ON BOARDS AAUW OREGON REPORT was submitted to the State of Oregon AAUW Public Policy Committee, chaired by Trish Garner. Trish identified a sponsor, Karin Power, State Representative from District 41 (Milwaukie and SE Portland), who brought the topic before the legislature. Our own Rep. Pam Marsh, OR House District 5, signed on as a sponsor. 
A data sheet was created which summarizes the bill:
 HB 3110 was passed out of the House Rules Committee with a recommendation to PASS which it received from the full House. Sadly, it did not get out of the Senate Rules Committee and was not voted on by the full Senate.
We expect this to be a multiyear process with the hope that it will result in a bill addressing equity for women and underrepresented people on Oregon's corporate boards. Ashland Public Policy will continue to work with the state Public Policy Committee to lobby legislators during the 2022 short session and then work to bring a bill forward during the longer 2023 legislative session.