Support AAUW Ashland Scholarship Funds
Our scholarship funds help women in our community reach their educational and life goals by attending Southern Oregon University (SOU) or Rogue Community College (RCC). AAUW Ashland has established two funds at each institution; SOU Annual Fund or SOU Endowment Fund and the RCC Annual Fund or RCC Endowment Fund. Gifts to the Annual Fund are distributed within a given year and gifts to the endowment funds are added to a managed fund that grows in perpetuity – only the interest earned is dispersed annually. See below for how to give.
Join us! 
2021 Dollars for Scholars Annual Scholarship Fundraising Campaign
 We are excited to announce the 2021 Dollars for Scholars campaign for annual scholarships. This year's campaign marks the 31st year that the Ashland Branch has been helping women in this valley realize their educational dreams.
We all share a deep commitment to supporting women's education in the Rogue Valley.   The scholarships that we have been awarding for the past 30 years have helped countless women realize their dreams of becoming educated and self-sufficient.
And, now in the midst of this terrible pandemic, it is women who are most often in the greatest need of help and support, women who are trying to support their families, trying to better themselves, and better the lives of their families through education. 
Now, more than ever, our support of these women is vitally needed and crucial.
That's why the 2021 Dollars for Scholars Campaign is so important.  This year, we are aiming high, given the increased need.  We have set a $10,000 goal to be raised in two months.  
The Dollars for Scholars Campaign will run from February 1 to April 1 with a goal $10k in scholarship monies to be raised and awarded this year to deserving women students at the Southern Oregon University (SOU) and at Rogue Community College (RCC). 
Every dollar counts.  Every gift counts, whether it's $20 or $200 or $2000.  This year, in addition to our dollar goal, we also have a 100% participation goal. We invite each and every one of you to be a part of this effort. Whatever level you choose to give, you will feel good knowing that you have been a part of something bigger. Together we can make a significant difference in the lives of local women.
Ready to write your check?  See the check writing instructions below and do it today.   It's easy!
Thank you for your commitment to the mission of AAUW, to education for women, and for your support.
Won't you join us?
Please make your check payable to SOU or RCC Foundation and on the memo line note Annual  Fund.

Please DO NOT make your check payable to AAUW!
Mail contributions to:
AAUW Ashland
2305 Ashland St. Suite 406
Ashland, OR 97520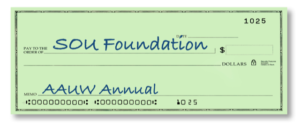 Five Fast Facts about AAUW Ashland Annual Scholarships
 YOU make it happen! It is you, our AAUW Ashland Branch members, that fund our scholarships!  Together we work to enable our sisters to get an education and make a difference in their own lives, the lives of their families, and to the community.
AAUW Ashland awards scholarships to women at Southern Oregon University (SOU) at undergraduate and graduate levels, and Rogue Community College (RCC) women who are from diverse undergraduate majors and pre-professional programs.
 Our partners are SOU and RCC. With the help of each financial aid office, applicants are matched with funds for which they qualify. Each quarter the accounting office applies one third of the scholarship award to the student's account to cover any university expenses like tuition, on-campus housing, fees and books.  No checks are issued directly to students.
 Our wonderful AAUW Ashland Scholarship Committee headed up by Wanda Chin and Kate Wolf-Pizor, reviews the applications, interviews and evaluates each candidate and then selects a slate of finalists. The awards are made, the finalists notified, and the following fall, the initial funds are distributed. In the spring, our Branch celebrates our scholars with a special event.
 No gift is too small. Every dollar gifted is a dollar in support of education and women.
Thank you!
 Platinum Society
The Platinum Society AAUW Ashland honors a contribution or bequest of $10,000 or more which gives you a way to remember AAUW through your will, annuity, trust or IRA. Our current Platinum donors are: Jean Conger, Chris Donchin, Suzanne Duncan, Victoria Giffin, Elaine and Wayne Hamlin, Margaret Humphrey, Katharine and Ron Lang, Peggy Moore, Diane Novak, Judy Lin Shih, Elaine and Richard Sweet, Sylvia and Keith Whitman, Kate and Jim Wolf-Pizor, Esther Stone, and Paula Wiiken. Please consider joining this distinguished group!
HOW TO GIVE
Checks
All scholarship gifts are made through the tax-exempt foundations of Southern Oregon University and Rogue Community College, respectively. Please make your check payable (tax deductible if you itemize) to either the SOU Foundation or the RCC Foundation, and indicate on the memo line of your check if you wish the funds to be allocated to the Annual Fund or the Endowment Fund.
SOU Foundation Tax ID: 23-7030910
RCC Foundation Tax ID: 93-0777701
Mail contributions to:
AAUW Ashland
2305 Ashland St. Suite 406
Ashland, OR 97520
Gifts of Stock or IRA Charitable Contributions
For donations of stock or IRA charitable contributions, please contact your financial advisor. If you are over 70 1/2 years of age, charitable gifts given directly from your IRA can be deducted from the taxable amount of your Required Minimum Distribution.
Bequests
You can make sure that your legacy lives on by arranging  for a gift to AAUW Ashland Endowment Funds at RCC or SOU through your will or trust. Please consult with your legal advisor to learn how to contribute in this way..  For your convenience, here are links to bequest forms for the RCC and SOU Foundations.
RCC Foundation Bequest July, 2017
Named Scholarships
Our Named Scholarship Program honors a contribution or bequest of $50,000 or more. We invite you to make a donation to honor or memorialize someone influential in your life. We currently have two SOU Scholarships named in perpetuity by Judy Yin Shih and Kate and Jim Wolf-Pizor family.
Thank you for your generosity! For more information, contact any member of the Endowment Committee or any Board Member.