AAUW Ashland Makes Awards to SOU and RCC Students  
AAUW Ashland awarded $34,500 in scholarships to five students at Southern Oregon University (SOU) and three students at Rogue Community College (RCC) for the 2021-22 academic year. Many thanks to our AAUW Ashland members who served as mentors to our scholars: Scholarship Co-chair Kate Wolf-Pizor, Paula Wiiken, Katharine Lang, Priscilla Arnold, Jean Conger, Peggy Moore, Christine Fernlund, and Pam Shay.
Celebration of Scholars
AAUW Ashland honors its scholarship recipients at an Annual Celebration of Scholars event. This is a joyous occasion at which our members, the community, and the recipients' friends and family can recognize the hard work and achievements of these special women.
This year's event will be held on Wednesday, October 27, at 6:30-7:30pm via zoom 
Meet Our 2021-22  Scholarship Recipients
Southern Oregon University
Aida Antonio, named the Judy Yin Shih Scholar, is a graduate student in the SOU Master of Business Administration. Attending the MBA Online program allows her, a first generation college student, to work full-time at a non-profit agency, in Portland, OR. She works on diverse projects ranging from asset management to conservation and transportation. As an English and Spanish speaker, she supports families and communities to secure resources and their futures. During the pandemic she worked with the #WeCountOregon campaign to help Spanish-speaking residents understand and fill out census forms—switching from in-person canvassing to virtual texting, phone banking and email.
"Born and raised in Portland, working with marginalized communities is important to me because I come from a family that grew up in poverty in Guatemala.
As a future entrepreneur and woman in business, I focus on advancing my skills and understanding of business and finance. I want to encourage families, heads of households and individuals to improve their understanding of their personal finance so they can invest in themselves and their futures. I want to pursue a doctoral degree in public policy or law and management."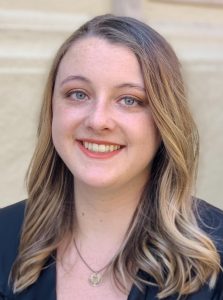 Jennifer Cavalier, the Wolf-Pizor Family Scholar, is a graduate student in the Master of Arts in Teaching program at Southern Oregon University. She graduated in June 2021 with her BA in English and Certificate in Teaching English to Speakers of Other Languages. Born and raised in the Rogue Valley, Jennifer has been a volleyball coach in Medford since 2017 and considers it a passion in her life. During fall quarter, she begins teaching full-time in the valley while studying full-time graduate studies.
"My persistence, patience, and resilience have gotten me to where I am. As a teacher my persistence will help students who struggle to engage. My patience will remind me to show my students empathy and compassion because everyone has bad days, weeks, or even months. I can be resilient and overcome the hurdles. As an English major, I rediscovered a wonder of learning that I wish to share with my future students. I hope to build a culturally responsive classroom and show how empathy and compassion facilitate teaching and learning."
Molly Robinson, the Lang Family Scholar, is pursuing her Bachelor of Science degree with a Major in Art at SOU. She is a Eugene Bennet scholar and an SOU President's List Honor Student. As a nontraditional first-generation college student, she earned her Associate of Arts Oregon Transfer Degree from RCC as a member of the Alpha Zeta Pi Honor Society. Her experience as a nontraditional student inspired her to revive the Nontraditional Student Union, of which she is the President. Her metal and clay art speaks universal messages of gratitude and unity, and she seeks to create a moving experience that has a lasting purpose for her audiences.
"Driven by my passion for knowledge, I am breaking generational chains. In education I am finding new pathways to success that include an enhanced life and career development for myself, and my daughter. As an artist I have a passion for serving my community. My personal philosophies drive me to invent and produce with intention. I create artwork that serves a purpose while enriching the life of its owner."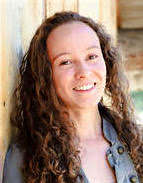 Tara Crosswhite is a senior in the Honors College and McNair program at Southern Oregon University. Tara is pursuing a major in Biology with minors in Chemistry and Spanish. Her career goal is to become a multilingual physician assistant with the cultural competency to serve a diverse range of people. Tara is looks forward to conducting biomedical research in Bali, Indonesia during the summer of 2022, and is planning on serving in the Peace Corps later in life. On top of school, Tara works as a Certified Nursing Assistant and as a Resident Manager for her university's apartments.
"In my career as a future physician assistant, I hope to excel in my work. To address the need for multilingual healthcare providers, I study Spanish in my free time and plan on learning additional languages in the future. Furthermore, finding ways to provide affordable and accessible healthcare is essential. Telemedicine is the new frontier of medicine, and I believe it will solve much of healthcare's inequity issues. To stay informed on the advancements in healthcare technology I read articles on this matter daily."
Shania Evans is a Business Administration-Management major in the Class of 2022 at Southern Oregon University. A first generation college student, she is also pursuing a Certificate in Applied Finance and Economics. Shania has been on the SOU Provost's List or Presidential List every term. She has overcome many obstacles in her life, notably her mother having cancer and her father passing away. She is most proud of her volunteer efforts in the Almeda Fire Relief and in Mexico where she built a house. Shania is excited for the future and wants to attain a job that allows her to make a difference in her community.
"Through my collegiate years, I've deepened my passion for helping others. I believe the greatest joy in life is putting a smile on someone's face. I aspire to use my love for Jesus and heart for others to pursue a career with a non-profit or in the mission field to tangibly and spiritually change lives. Upon graduation, I intend to apply my financial literacy and acquired marketing knowledge to grow existing non-profit organizations to reach a greater and more diverse group of people."
Rogue Community College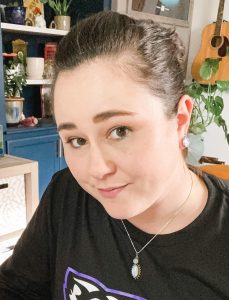 Katie Weyers, an honor student heads into her second year at Rogue Community College. She plans to transfer to SOU to earn her Master's degree in Teaching with a focus on English Language Development. A mom and first generation college student, she entered community college after raising a family and working in banking for the past 20 years. She works as an Instructional Assistant supporting the English Language Development team at an elementary school and she has volunteered for PTO, Girl Scouts and as a youth soccer coach.
"I enrolled in a four-year school but I dropped out before the first class. Life happened and it took me over 20 years to get here. I love going to work every day at my elementary school. Being immersed in my field of study provides constant inspiration and motivation to do my best in school. As a child with adverse childhood experiences, I had a stable adult to help me through those things. Being a mother myself has taught me that we can not shield our children from all of the trauma, but we give them the tools to help deal with it."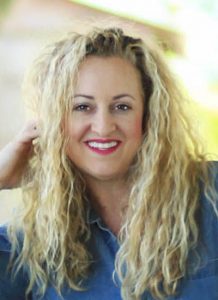 Lacie Lacy is a second-year nursing student at Rogue Community College. Born and raised in the Rogue Valley, she returned to school after 20 years, as a first-generation college student and mom. As a volunteer, she coached youth T-Ball, and served as a classroom helper before COVID-19. She has led as Committee Chair of a Cub Scout pack, and as a PTA president. She worked as a Certified Nursing Assistant in the Cardiac Critical Care Unit where she enjoys the total patient care, and the team environment.
"On May 30, 2017 I was sitting in a hospital room. I had coached my sister through her first birth. It wasn't my first time coaching an individual through a birth, but it was my first time sitting down after a birth and feeling brave enough to push through the many years of doubt and insecurities. I wanted to be a nurse. I immediately enrolled in pre-requisite nursing courses. For the past four years I have juggled being a mom, a wife, a business owner, and a student. It's been a long hard journey, but in the end, it's worth it! "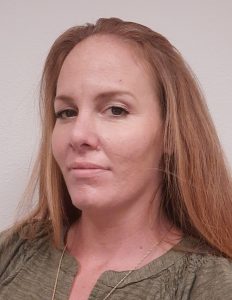 Holly Smyth is an honor student in her sophomore year at Rogue Community College, and she will transfer to Sothern Oregon University with an Associate of Science in Human Services. She is a single mother and works with The Pathfinder Network at Jackson County Community Justice as a Certified Recovery Mentor. In 2020 she created a program through the Department of Human Services Child Welfare where youth in foster care are now paired with mentors at Rogue Valley Mentoring. Holly is passionate about working with justice involved youth and aims to become a Program Director at Oregon Youth Authority.
"After battling drug addiction and homelessness from the age of 16, I became the first one in my family to survive such a horrifying lifestyle and pursue a college education. I strive every day to be a better me than I was yesterday. My dedication is seen in all areas of my life. The positive impact that I now have on my children is evident in their own life. Today I bring hope not only to my own family but also to so many who have watched me struggle my way through to the beautiful life I have. The life I have built with a portion of the education I am seeking"
AAUW Ashland Scholarship Awards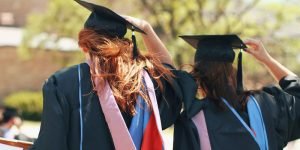 AAUW Ashland Scholarship Awards are one of the premier efforts of this Branch. Scholarships are critical to advancing higher educational opportunities for women.  Scholarships are especially important because women disproportionately bear the burden of student debt. https://www.aauw.org/research/deeper-in-debt/
We award scholarships to students at Southern Oregon University and Rogue Community College. Our Scholarship Committee works with SOU and RCC to identify eligible students. The Scholarship Committee reviews the applications, selects and interviews finalists, and makes final awards. We actively seek applicants with different or challenging life experiences, such as mothers returning to school, first generation college students, etc. Each recipient is paired with a Branch member to serve as a mentor.
In 2019 our Branch awarded nearly $29,000 in scholarships to nine amazing women. The total amount awarded is determined by the current annual and available earnings from our endowment funds held at the SOU and RCC Foundations.  Scholarships are awarded and the recipients recognized at the Celebration of Scholars held in May.
Join the AAUW Ashland Scholarship Committee to participate in the advocacy, fundraising, and selection process. If you are interested in serving on this committee, please contact Chair Wanda Chin or Co-Chair Kate Wolf-Pizor.
Donate to the AAUW Ashland Scholarship Funds.
SOU Scholarships
Scholarships are awarded to full time SOU graduate or undergraduate female students of any age who have financial need and have demonstrated leadership in community activities, volunteer service, and/or employment.
SOU Scholarship Criteria
RCC Scholarships
Scholarships are awarded to female students with financial need in any field of study and of any age and have demonstrated leadership in community activities, volunteer service, and/or employment.
RCC Scholarship Criteria
Thanks to Our Donors!
The AAUW Ashland Endowment Committee wants to acknowledge the following contributions to the SOU and RCC endowment/foundation funds:
Kate and Jim Wolf-Pizor for their gifts of $7,000 to SOUF and $7,000 to RCCF
Anonymous for a $7,000 gift to RCCF
Chris Donchin for a $1,000 gift to SOUF
Stephanie Bullock, who honors the memory of Suzanne Duncan with her annual donation to SOUF
Carol Mockridge for her gift of $5,000 to SOUF and $5,000 to RCCF
All of our generous Branch members who thoughtfully added an endowment donation to their membership renewals.
The Platinum Society AAUW Ashland honors a contribution or bequest of $10,000 or more which gives you a way to remember AAUW through your will, annuity, trust or IRA. Our current Platinum donors are: Jean Conger, Chris Donchin, Suzanne Duncan, Victoria Giffin, Elaine and Wayne Hamlin, Margaret Humphrey, Katharine and Ron Lang, Carol Mockridge, Peggy Moore and Betsy Bradshaw, Diane Novak, Judy Lin Shih, Elaine and Richard Sweet, Sylvia and Keith Whitman, Kate and Jim Wolf-Pizor, Esther Stone, and Paula Wiiken. Please consider joining this distinguished group!
Named Scholarships
Our Named Scholarship Program honors a contribution of $50,000 or more. We currently have three Scholarships named in perpetuity by the Katharine and Ron Lang Family, Judy Yin Shih, and the Kate and Jim Wolf-Pizor Family.
We invite you to make a donation to honor or memorialize someone influential in your life.