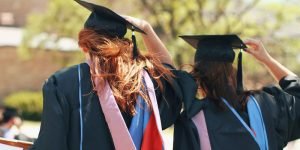 AAUW Ashland Scholarship Awards are one of the premier efforts of this Branch. Scholarships are critical to advancing higher educational opportunities for women.  Scholarships are especially important because women disproportionately bear the burden of student debt. https://www.aauw.org/research/deeper-in-debt/
We award scholarships to students at Southern Oregon University and Rogue Community College. Our Scholarship Committee works with SOU and RCC to identify eligible students. The Scholarship Committee reviews the applications, selects and interviews finalists, and makes final awards. We actively seek applicants with different or challenging life experiences, such as mothers returning to school, first generation college students, etc. Each recipient is paired with a Branch member to serve as a mentor.
In 2019 our Branch awarded nearly $29,000 in scholarships to nine amazing women. The total amount awarded is determined by the current annual and available earnings from our endowment funds held at the SOU and RCC Foundations.  Scholarships are awarded and the recipients recognized at the Celebration of Scholars held in May.
Join the AAUW Ashland Scholarship Committee to participate in the advocacy, fundraising, and selection process. If you are interested in serving on this committee, please contact Chair Wanda Chin or Co-Chair Kate Wolf-Pizor.
Donate to the AAUW Ashland Scholarship Funds.
SOU Scholarships
Scholarships are awarded to full time SOU graduate or undergraduate female students of any age who have financial need and have demonstrated leadership in community activities, volunteer service, and/or employment.
SOU Scholarship Criteria
RCC Scholarships
Scholarships are awarded to female students with financial need in any field of study and of any age and have demonstrated leadership in community activities, volunteer service, and/or employment.
RCC Scholarship Criteria
Named Scholarships
Our Named Scholarship Program honors a contribution or bequest of $50,000 or more. We invite you to make a donation to honor or memorialize someone influential in your life. We currently have two SOU Scholarships named in perpetuity by Judy Yin Shih and Kate and Jim Wolf-Pizor family.
Celebration of Scholars

Each May AAUW Ashland honors its current scholarship recipients. This is a joyous occasion at which our members, the community, and the recipients' friends and family can recognize the hard work and achievements of these special women.
This year's Celebration of Scholars will be held on Wednesday, May 20, 2020, at the SOU Stevenson Center, Rogue River Room.