FLORENCE SCHNEIDER
Florence Schneider was a legendary member of the Ashland Branch who was a generous citizen of the Ashland community. The Schneider Museum of Art was made possible by a gift from Florence and her husband, Bill. Florence received her PhD from Bryn Mawr and was a lifetime member of AAUW. She was an active recruiter and mentor for new members, pushing them to take on leadership roles and to extend themselves beyond what seemed comfortable. She passionately believed that AAUW should be an important part of every educated woman's life.The Ashland Branch established the Florence Schneider Award in 2000 after her death in 1999. NYT obituary The Award is given to a member in recognition of leadership and outstanding long service to the Branch and the community. A committee of past recipients annually selects a member who exemplifies the values that Florence personified:
Longstanding service to and loyal member of AAUW
Commitment to AAUW's goals of lifelong education, equity for women and girls, and positive societal change
Serving as a strong mentor for strong women
Sharing personal talents in a thoughtful and deliberate manner.
---
Pam Shay Receives the 2022 Florence Schneider Award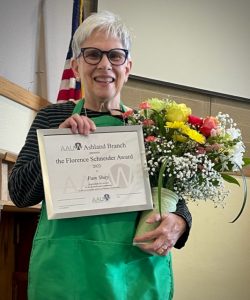 Pam Shay was honored at the May branch meeting with the annual Florence Schneider award.  Florence Schneider, now deceased, was a long-time dedicated member of Ashland AAUW known as an active recruiter and mentor for new members.   Pam has served on the board as a member-at-large, as co-president for two years, as a section leader for the 2019 Upscale Sale, and as the current co-chair of this year's sale.  She led our branch to receive national 5-star recognition, organized the 2019 lobby day in Salem, and spearheaded our nomination and succession plans.  Pam currently serves as the South District State Representative.  Pam clearly exemplifies the values of Florence Schneider's life, commitment to positive changes to society and equity for women and girls.  AAUW Ashland is so very fortunate to have Pam among our members and we all congratulate her on this well-deserved award.
Florence Schneider Award Recipients
2022                    Pam Shay
2021                   Gretchen King
2020
Elaine Hamlin
2019
Sandy Theis
2018
Chris Donchin
2017
Mimi Pippel
2016
Bessie Azari
2015
Elaine Sweet
2014
Carryl Breon
2013
Sherri Morgan
2012
Pat Brewer
2011
Nancy McLaughlin
2010
Diana Quirk
2009
Suzanne Duncan
2008
Jean Conger
2007
Eleanor Perkins
2006
Jan Waitt
2005
Claire Carroll
2004
Bettie Henry
2003
Laura Patton
2002
Treva Tumbleson
2001

2000

Helen Seiber

Norma Curtis, Betty Lou Dunlop
NAMED-GRANT HONOREES
Named-Grant Honorees are named in recognition of meritorious service to the Branch. The EF raises funds to give women postgraduate opportunities that benefit the state and world communities.
The Named-Grant Honorees since 1990 are:
1990
Florence Schneider
1991
Norma Curtis
1992
Jackie Carrau, Helen Seiber
1993
All Members
1994
Sara Walker, Jan Waitt, Laura Patton, Claire Carroll
1995
Norma Curtis, Gayle Titus
1996
Carrie Prechtel
1997
Bettie Henry, Martha McIntyre
1998
Joanne Soued, Ann Stein, Melinda Biskup, Ionemary Meyer (in memoriam)
1999
Barbara Berry, Diana Quirk, Jody Sorenson, State Pres. Alice Bartelt
2000
Ruth Farwell (in memoriam), Ed Perkins, Helen Seiber, Jan Waitt, Marian Watt, Janet Williams
2001
John Adams, Jean Conger, Mary Ferrari
2002
Kathy Griffin, Mary Jo Owens, Eleanore Perkins
2003
Suzanne Duncan, Suzanne Witucki
2004
Pat Brewer, Joyce Jarvis
2005
Mary Catherine Davalos, Susan Rust, Margaret Scarborough, Judith Spelman, Vivian Stubblefield
2006
Carryl Breon, Elizabeth Murphy, Diane Novak, Kay Johnson, June Poe
2007
Cheryl Goldman, Annette Lewis, Carol Lee Rogers
2008
Maureen Battistella, Ginny Dugan
2009
Sherri Morgan, Rae Otto, Charlotte Abernathy
2010
Elaine Sweet
2011
Bessie Azari; Sandra Coyner; Sherri Morgan and Jan Waitt
2012
Chris Donchin, Karen Hueston, Helen Rosen, Mimi Pippel, Rosemary Adalian
2013
Joan Enloe
2014
Mimi Pippel, Karen Spence, Elaine Sweet
2015
Sunny Anderson, Gretchen King, Linda Lipkind
2016
Priscilla Arnold, Regina Ayars, Wanda Chin, Sandra Coyner, Christine Fernlund, Nancy Kramarenko, Alice Mallory
2017
Phylllis Fernlund, Carol Ryan, Kori Calvert, Pat Brewer, Elaine Hamlin, Saundra Theis
2018
Tricia Acheatel, Priscilla Arnold, Jean Conger, Margaret Humphrey, Katharine Lang, Annette Lewis, Marty Lemky, Peggy Moore, Sylvia Whitman, Kate Wolf-Pizor
2019

2020 

2021 

Bessie Azari and Paula Wiiken

Anne Ainesworth, Karen Heuston, Sandy Burd, Wanda Chin, Ellen Fowler, Katharine Lang, Chris Licata, Kathleen Mackris, Carol Ryan, Janet Troy

Sylvia Whitman, Maureen Wilson-Jarrard, Ellen Fowler, Pat Brewer, Elaine Sweet, Chris Licata, Alice Mallory, Ann Bard, Regina Ayars, Sonja Friedman, Julie Benezet, Mary Renard
OTHER AWARDS
In 2009
The Women of History award was initiated in 2009 to honor long-time women members who have made substantial contributions to the branch.
2009 Doris Mannion
In 2013
The Presidents' Recognition Award was presented to Bessie Azari in 2013 for her willingness to mentor, support, encourage and inspire two new presidents.
Advocacy for Women: Gretchen King, in 2013, for her book sales project to support Dunn House and WIN.
Social Networking: Liz Murphy for her efforts to connect women with information and community
Community Involvement: Chris Donchin for her successful implementation of $$$ 4 Scholars.
In 2014
Kathy Brandon and Sunny Anderson each received the Past President's pin in recognition of their dedicated leadership of our Branch in 2012–2013.
In 2015
Bessie Azari and Sandra Coyner were each given a Past President's pin for leading our Branch for two years. Sandra served on the Leadership Team 2009–2011, and Bessie served 2010–2012.